Kim Saunders, MSN/ED, RN, CWON®, CFN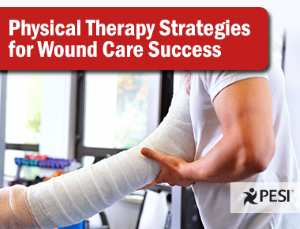 Physical therapy modalities of ultrasound, E-stim, and sharp debridement allow for aggressive treatment of wounds. Some deficits may occur in etiology treatment of skin issues traditionally not managed by therapists, such as moisture-associated skin dermatitis.
Four questions may guide you in assigning etiology of areas of the trunk where moisture may be a contributing factor:


Where is the wound located on the body?
What is the appearance of skin/wound?
What is the clinical history?
What are the best treatment options?
Below are examples of the answers to these questions as well as treatment options per four etiologies of the trunk.
Incontinence-Associated Dermatitis


Location

Perineal, buttocks, thighs

Appearance

Superficial
With or without fungal component

History

Persistent or recurrent incontinence
Fecal and/or urinary

Treatment Options

Resolve incontinence when possible through toileting, thickening stool, eliminating aggravating factors
Contain incontinence through super absorbent polymer (SAP) briefs/pads
Protect/treat skin through emollients (lanolin, mineral oil, petroleum types) or crusting applications (copolymer powders & skin barrier wipes/sprays)
Intertriginous Dermatitis
Location

Base of body fold
Opposing surfaces of body fold

Appearance

Linear opening/break in the skin
Shallow kissing lesions
No ischemia

History

Diaphoresis
Trapped moisture

Treatment Options

Separate wet skin folds
Use wicking products for weeping skin folds
Drying powders or skin barrier wipes
Friction
Location

Fleshy skin areas in contact with linens, bed, or chair
Heel or area that rubs against linen, etc.

Appearance

Skin moist or fragile
Serous blister over heel
No ischemia

History

Patient restless
Fragile skin
Frequent perineal cleansing

Treatment Options

Manage moisture
Protect skin in agitated patients
Emollients or skin protectants for prevention/treatment
Early recognition
Pressure Ulcer
Location

Over bony prominence
Under medical device

Appearance

Defined edges
Tissue ischemia

History

Periods of immobility
Compression by device

Treatment Options

Redistribute pressure and envelopment within a surface

Moisture management via surface & wicking products

Debridement

Infection prevention/treatment

Nutrition
---
This blog was brought to life by PESI speaker and author
Kim Saunders, MSN/ED, RN, CWON®, CFN
. Kim Saunders has 18 years as a wound, ostomy, and continence expert in home health, acute care, hospice, and outpatient settings. Kim consults for patients related to wounds, ostomy, and incontinence-associated dermatitis. Her experience includes healthcare system-projects related to bed, stretcher, and wheelchair surfaces as well as system processes for skin and wound issues. She also is a co-owner of WOC Consulting, LLC.
Our new Intensive Skin and Wound Care Course will have you feeling confident treating patients regardless of where you're practicing right now or where you might be practicing in the future.
Topic: Wound Care
Tags: Dermatitis | Pressure Ulcer