PESIinc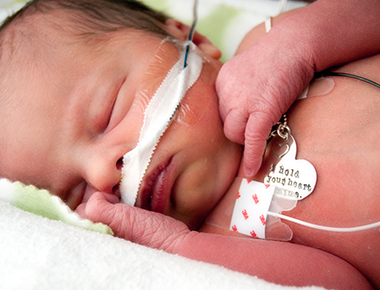 Mandy Maneval faced infertility for years. Finally, three years ago, she became pregnant with twins. At a routine ultra sound, she was faced with the news that Aaron was lost at 20 weeks. Her little girl, Abigail (Abby), was healthy.
At 30 weeks, Mandy went into labor. She called her sister, Megan Shellenberger, a nurse at Penn State Milton S. Hershey Medical Center, located in Hershey, Pennsylvania. Megan spends most of her time working in labor and delivery, and she was quick to reassure Mandy that everything would be O.K.
Suspecting that baby Abigail had a heart defect, Mandy came to Penn State Milton S. Hershey Medical Center, the home of a leading neonatal cardiologist. The physicians were able to stop Mandy's labor, but she would remain an inpatient until delivering Abby at 35 weeks.
Abby was born with two very complex heart defects. So rare, that her doctors described it as being struck by lightning twice. Born on a Saturday, she had open heart surgery four days later. She made it through with limited complications, but shortly after her urine output declined, and she began to look dusky.
On Saturday morning, just one week after she was born, Mandy called her sister. "Abby went with the angels. What do I do, Meg?"
Megan was familiar with the tragic loss of infants. She joined her sister in the hospital where they bathed and dressed Abby. She carefully made hand and foot molds of her niece, and a priest came in. Then they left: Mandy carrying a white plastic bag labeled "personal belongings" filled with Abigail's few possessions she ever touched.
"On the day of Abby's funeral, I had to dress my sister," said Megan. "For a year I took care of her, helped her get into therapy, and when I felt confident that she was healing I knew it was time to do something different for myself, my career, and my medical facility."
Recognizing a need to care for families differently, Megan made the decision to complete her certification to become a bereavement Doula.
Since becoming certified, Megan has become focused on changing the program and procedures at her facility to better care for families experiencing the loss of an infant. That means not just adjusting policies in labor and delivery, but training NICU and PICU staff on how to help a family say hello to their child before saying goodbye.
Megan stressed,"These babies are important, and we should show parents that they're important to us as a medical facility too. And that means not sending them home with a plastic bag of belongings, but instead allowing them time to slow down, create some memories and have the opportunity to process what is happening."
Megan worked with
Sweet Grace Ministries
, a support organization for families who've lost infants, to purchase a
CuddleCot™
for Penn State Milton S. Hershey Medical Center. CuddleCot™ is a small cooling system that helps a family dealing with bereavement have additional time with their child.
"Families usually have one, two or four hours to spend with their infant after a loss. That's nothing compared to the time they anticipated spending with their child. Using the CuddleCot™ we can extend the time to one, two or even four days. During that extra time, we create a lot of memories. We place a bear next to the baby and take photos, we make hand and foot molds, and we have mementos for the family to take home with them. It's all about taking the time to say hello to their child before saying goodbye," said Megan.
Megan notes that there are easy steps every medical facility can take to help families dealing with infant loss grieve.
If it is safe for the mother, facilities need to encourage time for the parents to process what has happened.
"Many families find out that their baby's heart has stopped during routine ultra sounds. After hearing the news, they go straight to labor and delivery. Sometimes these families have nurseries ready and waiting at home, and they have no time to go home, pick out an outfit, or plan with their family. When we slow everything down, these families can grieve this devastating loss in a way that's right for them."
By allowing families time to prepare for a stillbirth, facilities can provide entire families with the opportunity to make memories. Groups such as
Now I Lay Me Down to Sleep
are available to take photographs of mom, dad, siblings, and all of the extended family who are deeply in love with the child.
Creating hand and foot molds of the baby are invaluable for families.
Megan recalls making the molds for her niece. "My sister was devastated because we had to hold Abby to complete the hand and foot molds. Later, when we brought the molds to my sister she cried. She told me she didn't realize that they were going to be so wonderful. They're her favorite thing of Abby's."
If the facility knows the family will be having a stillborn child, make the delivery room more comfortable.
"Remove the equipment that isn't needed. If the comforter on the bed is white, change it to something with a color. The baby will photograph against a colored blanket much better. Even little touches like filming when the family comes in can be helpful. It's priceless to have the moment on film when a grandmother says 'Oh, he looks just like his Dad.'"
Megan's role as a bereavement doula can be a wonderful resource for families struggling with infant loss. She'll join families in the hospital and help them understand that it's O.K. to take pictures, and it's O.K. to hold their baby. Megan says, "there is a feeling that it's morbid to hold a baby that has passed on. But we need to change our thinking."
Not every facility is fortunate enough to have a bereavement doula on staff. Families can find bereavement doulas through online listings, and are encouraged to reach out and contact a doula. Many bereavement doulas are open to traveling and visiting medical facilities to help families grieve their infant.
"Abigail and my sister are the reasons why I've done bereavement. Our medical facilities can do better helping families grieve. For my own facility, I'm passionate about getting the perinatal bereavement program up and running. I want parents who know they're going to have a baby who won't make it be able to start planning right away."
Megan stressed the importance of reaching out and remembering these families after their baby has passed. "Right after Abigail passed, I went back to work and had a mom come in who was losing her twins. She gave me an ornament with two little hearts that had their names on the back. It hangs on my tree every year. And every year I take a picture of it and send it to her, and I tell that I remember."
---
Megan Shellenberger, BSN, has been a nurse for 11 years. She honors Abby by caring for mothers experiencing a loss. PESI is proud to share Megan's story in memory of Abigail. For Megan's role in changing her facility's practices for handling infant loss, she has been awarded the PESI Nurse of the Month.
---
For more resources on infant loss, please visit the following:
The Smallest Gift
– a resource available to any nurse or family dealing with infant loss. This volunteer run organization will pack and ship boxes at no charge to families experiencing loss. Included are self help books, a blanket with the baby's name, a weighted heart pillow made to the exact birth weight of the baby.
Babies Remembered
– A bereavement doula certification group.
---
Get a
free hour of CE
when you watch
Mastering the Neurological Assessment
with Cyndi Zarbano.
---
Topic: Women's Health
Tags: Bereavement Doula | CuddleCot™ | Infant Loss | Stillbirth