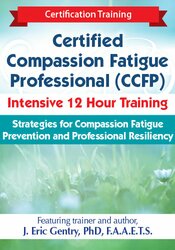 Product Details
Format:

Digital Seminar

Details:

Downloadable/Streaming MP4 Video and MP3 Audio with electronic manual and instructions.

Author:

ERIC GENTRY, PH.D., D.A.A.E.T.S

Publisher:

PESI Inc.

Copyright:

2/25/2021

CE Available:

No, CE credit is not available

Product Code:

POS057515
Objectives
Analyze the seminal events, publications and individuals responsible for the conceptualization of compassion fatigue.
Distinguish the primary causes of compassion fatigue including the ability to teach the concepts of "traumagenesis" to clients.
Determine the symptoms and negative effects of compassion fatigue including those associated with arousal, avoidance, intrusion and fatigue.
Assess the presence and severity of compassion fatigue symptoms using the Pro-QOL (Stamm, 1995) as both a self-assessment for compassion fatigue symptoms and as a clinical measure for assessing others.
Analyze the role that perceived threat and sympathetic nervous system dominance play in the generation of compassion fatigue symptoms and, conversely, the role of self-regulation in the amelioration of future effects and prevention of future effects.
Appraise how secondary traumatic stress can "infect" individuals and how this can negatively impact the professional and personal life of a caregiver.
Catalogue and engage the process of healing secondary traumatic stress for oneself and others.
Distinguish burnout as caused by autonomic dysregulation and distorted perception instead of workplace factors (shift from external to internal locus of control).
Employ skills for resolving and preventing symptoms of burnout.
Utilize the five evidence-based resilience skills from this course for yourself and with clients.
Analyze how and why intentionality works as a potent skill for ameliorating and preventing compassion fatigue symptoms.
Defend that the effects of compassion fatigue as being failed or thwarted professional maturation.
Distinguish the specific processes, trajectory and tasks associated with professional maturation and how developing these skills enhance resiliency.
Apply CBT tools (e.g., relaxation, exposure and perceptual change) to lessen the effects of compassion fatigue in one's own life.
Design a self-directed resiliency plan for self and others that utilizes evidence-based skills to prevent compassion fatigue, enhance professional resilience and engage in a trajectory toward maturation.
Outline
Essentials of Compassion Fatigue
Overview of the history of compassion fatigue
Why it is on a rise the field of caregiving
Etiology through its two primary components:

Secondary traumatic stress
Professional burnout
Working with People Who Are Traumatized and/or Suffering:
Critical Signs for Every Clinician to Watch For
Potential symptoms and effects associated with compassion fatigue.
The process (i.e., "infection") of secondary traumatic stress
Burnout as caused by autonomic dysregulation and distorted perception
Assessment and Clinical Skills for Professional Resilience
Compassion fatigue assessment instruments for self and others: Pro-QOL
Put it to Practice: Self-administration, Scoring & Interpretation of Pro-QOL
How to narrate personal/professional history that has led to negative effects associated with work
Put it to Practice: Graphic Time Line and Written Narrative of Caregiving
Understand the role that perceived threat and sympathetic nervous system dominance play in compassion fatigue symptoms
Put it to Practice: Skills-building with self-regulation
Compassion Fatigue Strategies: Restore Joy in Your Work To Better Help Your Clients
Prevent future effects associated with secondary traumatic stress:

Connection/support
Relaxation
Narrative to resolve current
Symptoms

Methods to resolve current and
prevent future effects of burnout
Skilled application of CBT tools to lessen the effects of compassion fatigue
A method for symptom amelioration and resiliency.
Put it to Practice: Complete "Documents of Intention"
Professional Resilience:
Clinical Skills to Enhance Resiliency
Processes, trajectory and tasks associated with professional maturation
Model that allows you to be healthy and maximally functional independent of environmental "demands"
The five key resiliency skills for the prevention
Design a self-directed professional resiliency plan
Put it to Practice: Complete Self-Directed Professional Resilience Plan
Author
ERIC GENTRY, PH.D., D.A.A.E.T.S
J. Eric Gentry, Ph.D., F.A.A.E.T.S. is an internationally recognized leader in the study and treatment of traumatic stress and compassion fatigue. His Ph.D. is from Florida State University where he studied with Professor Charles Figley – a pioneer of these two fields. In 1997, he co-developed the Accelerated Recovery Program (ARP) for Compassion Fatigue-the world's only evidence-based treatment protocol for compassion fatigue. In 1998, he introduced the Certified Compassion Fatigue Specialist Training and Compassion Fatigue Prevention & Resiliency Training. These two trainings have demonstrated treatment effectiveness for the symptoms of compassion fatigue, and he published these effects in several journals. He has trained over 100,000 health professionals over the past 20 years.

He is the co-author of Trauma Practice: Tools for Stabilization and Recovery-a critically acclaimed text on the treatment of traumatic stress. He is also the author of the groundbreaking Forward-Facing® Trauma Therapy: Healing the Moral Wound. He is the co-author of Forward-Facing® Professional Resilience: Resolution and Prevention of Burnout, Toxic stress and Compassion Fatigue, Unlocking the Keys to Human Resilience, and Transformative Care: A Trauma-Focused Approach to Caregiving.

Speaker Disclosures:

Speaker Disclosures: Financial: J. Eric Gentry receives compensation as Owner of Compassion Unlimited. He receives royalties as an author for Hogrefo & Huber Publishing. Dr. Gentry receives a speaking honorarium from PESI, Inc.

Non-financial: J. Eric Gentry has no relevant non-financial relationship to disclose.
Continuing Education Credits
CE Credit is not available for this product.
Audience
Counselors
Social Workers
Psychologists
Psychiatrists
Therapists
Addiction Counselors
Nurses
Marriage and Family Therapists
Other Professionals Who Work within the Mental Health Fields
Satisfaction Guarantee
Your satisfaction is our goal and our guarantee. Concerns should be addressed to PESI HealthCare, P.O. Box 1000, Eau Claire, WI 54702-1000 or call (800) 844-8260.

ADA Needs
We would be happy to accommodate your ADA needs; please call our Customer Service Department for more information at (800) 844-8260.