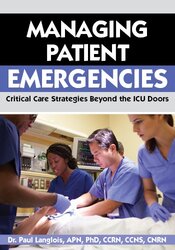 Product Details
Format:

Online Course

Author:

DR. PAUL LANGLOIS, APN, PHD, CCRN, CCNS, CNRN

Publisher:

PESI HealthCare

Copyright:

10/8/2020

CE Available:

Yes, See CE credit tab for complete continuing education details

Product Code:

CRS001226
Objectives
[+]
[-]
077335 - 2 Day - Managing Patient Emergencies: Critical Care Skills Every Nurse Must Know
Describe two types of rapid assessment techniques and how to employ them for the best results during a patient emergency.
Evaluate techniques for getting critical information during a rapid patient assessment.
Investigate EARLY assessment findings in clinical syndromes that may progress rapidly and cause life-threatening conditions.
Prioritize nursing actions for specific neurological, cardiac, respiratory and endocrine emergencies.
Review care of the diabetic patient in diabetic ketoacidosis versus HHNK/HHS.
Define heart failure with regards to left- and right-sided failure.
Identify patient populations who are at high-risk for bedside emergencies.
Discuss how to integrate assessment data and critical lab findings into the plan of care for a patient experiencing a life-threatening emergency.
Explain a strategic approach in evaluating abdominal pain for the most accurate assessment.
Contrast the difference between ischemic and hemorrhagic stroke in both symptoms and treatment priorities.
Recognize the most common causes of arterial blood gas abnormalities.
Analyze pain management and sedation options for the patient experiencing an acute illness.
[+]
[-]
077795 - Drug Use and Abuse
Assess ABCDE for the patient presenting after taking street drugs.
Prioritize interventions for the patient with tachycardia related to ingestion of methamphetamine.
Select the appropriate toxicology screening method based on the suspected drug of abuse.
Outline
[+]
[-]
077335 - 2 Day - Managing Patient Emergencies: Critical Care Skills Every Nurse Must Know
Identifying the RED Flags
Critical Thinking During a Crisis
Vital Signs & ABCDs
Methods for Establishing and Maintaining Airway
Breathing: More Than a Rate Issue
Circulation & Perfusion
Differential Diagnosis – 4 Methods of Determining Cause
Rapid Assessment Techniques
Critical Questions to Ask Your Patient
Identifying High-Risk Populations
Pre-Morbid Conditions
Age Considerations
Cardiovascular Prevention, Presentation, Action for: "I'm having chest pain"
Recognizing Arrhythmias - Stable, Unstable and Lethal
12-Lead EKG: Just the Down and Dirty
Utilizing a Systematic Approach
Patterns of Ischemia, Injury & Infarct
Acute Myocardial Infarction: STEMI/NSTEMI
Key Assessments & Interventions
tPA Guidelines
Cath Lab Intervention
Laboratory Parameters
Recognizing Subtle Changes
Heart Failure
Recent Advances in Care
Medication Management
Managing Intake and Output
Vascular Abnormalities
Respiratory Prevention, Presentation, Action for: "I can't breathe"
Assessment & Critical Interventions for:
Pulmonary Embolism
Pulmonary Edema
Acute Asthma Attack
Spontaneous Pneumothorax
Allergic Reactions
The Patient Who Needs Assistance
O2, CPAP, BiPAP
Indications for Intubation
Positive Pressure Ventilation
Chest Tube Management
Ventilator Settings Every Nurse Must Know
Easy ABG Analysis...Really!
Endocrine Prevention, Presentation, Action for: "I don't feel right"
The Differences of DKA and HHNK
Early Recognition of Hypoglycemia
Thyroid Storm: Physical and Psychiatric Symptoms
Managing Adrenal Crisis
Critical Lab Findings
Gastrointestinal Prevention, Presentation, Action for: "My aching belly"
Warning Signs of Acute Pancreatitis
Upper vs. Lower GI Bleeding
Perforated Bowel
Early Signs of Small Bowel Obstruction – Illeus
Interpreting the Lab Tests
Neurological Prevention, Presentation and Action for: "My head hurts!"
Elevated Intracranial Pressure
Clues When you Don't have a Monitor
Ischemic vs. Hemorrhagic Stroke
Inclusion/Exclusion for tPA
Essential Assessments post-tPA
Management Strategies for Seizures
The Patient in Withdrawal
Known vs. Suspected ETOH/Drug Abuse
Interventions for Delirium Tremors
Critical Labs
Renal Prevention, Presentation and Action for: "I can't make urine"
Acute vs. Chronic Kidney Disease
Recognizing Acute Kidney Injury
Key Assessments
Interpreting the Lab Data
Pain, Agitation & Delirium
Analgesics: Too Much or Too Little
Managing the Bedside Procedure
Type of Sedating Medications
Ensuring Appropriate Monitoring
Delirium: So Many Causes, So Many Options...
Key Assessments & Interventions
Managing the Decompensating Patient
No Pulse, No Blood Pressure, No Respirations...Now What?
Identifying Cardiac Causes
Street Drugs & Poisoning
Critical Assessments & Interventions
MUST KNOW Reversal Agents
[+]
[-]
077795 - Drug Use and Abuse
Poisoning and Street Drugs
Assessment
Initial Treatment
Patient Presentation Clues
Toxicology Screens
Current Drug Concerns & Manifestations
Bath Salts
CNS Depressants
Cocaine
GHB
Marijuana
Methamphetamine
Heroin
Opioids
MDMA
PCP
Rohypnol
Author
DR. PAUL LANGLOIS, APN, PHD, CCRN, CCNS, CNRN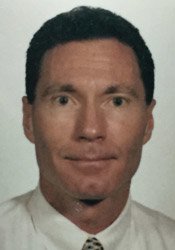 Dr. Paul Langlois, APN, Ph.D., CCRN, CCNS, CNRN,
is a critical care clinical specialist in the Surgical, Medical, Neurologic, Burn, CCU and Trauma ICUs of Cook County Hospital, Chicago. Drawing on over 30 years of experience assessing and managing patients with life-threatening diseases, Dr. Langlois provides advanced-level training to nurses, physician assistants, nurse practitioners and physicians.
Dr. Langlois is committed to providing the highest quality of care to patients through advanced education. His presentations are evidence-based, timely and provide participants with case studies to facilitate critical thinking. As a bedside clinical nurse specialist, he has developed several institution-wide protocols for the multidisciplinary assessment and management of the cardiac, neurologic, septic, and multi-system organ failure patient.
His presentations are enthusiastically delivered and offer practical tips that help make the most challenging concepts easy to understand. Linking knowledge to clinical practice is the goal of every educational program.
Speaker Disclosures:
Financial: Paul Langlois has an employment relationship with Cook County Hospital. He receives a speaking honorarium from PESI, Inc.
Nonfinancial: Paul Langlois has no relevant nonfinancial relationship to disclose.
Continuing Education Credits Awarded for Completion of Entire Package
[+]
[-]
Combined Continuing Education Credit From All Components
Breakdown of Continuing Education Credits by Components
[+]
[-]
077335 - 2 Day - Managing Patient Emergencies: Critical Care Skills Every Nurse Must Know
[+]
[-]
077795 - Drug Use and Abuse
Audience
Nurses and other Healthcare Professionals, Nurse Practitioners, Clinical Nurse Specialists
Satisfaction Guarantee
Your satisfaction is our goal and our guarantee. Concerns should be addressed to PESI HealthCare, P.O. Box 1000, Eau Claire, WI 54702-1000 or call (800) 844-8260.

ADA Needs
We would be happy to accommodate your ADA needs; please call our Customer Service Department for more information at (800) 844-8260.