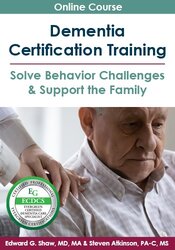 Product Details
Format:

Online Course

Authors:

STEVEN ATKINSON, PA-C, MS
EDWARD G. SHAW, MD, MA

Publisher:

PESI HealthCare

Copyright:

9/10/2020

CE Available:

Yes, See CE credit tab for complete continuing education details

Product Code:

CRS001409-EVG
Objectives
[+]
[-]
073310 - Geriatric Pharmacology:
Specify preventative techniques and individual monitoring plans to minimize adverse drug events and drug-drug interactions.
Apply the principles of polypharmacy to the patient with cognitive impairment.
Point out the effects of aging on pharmacokinetics.
Evaluate major causes, mechanism and early symptoms of drug-induced toxicity.
Assess tools used to safely taper and discontinue medications.
Select prescribing strategies for the geriatric patient.
Incorporate age-sensitive principles for medication dosing and management to clinical scenarios.
[+]
[-]
078060 - Challenging Geriatric Behaviors
Develop strategies to manage difficult behaviors in seniors who have an altered perception of reality.
Identify the signs and symptoms of Alzheimer's Disease and other dementias.
Discuss current research on the prevention of Alzheimer's disease, as well as lifestyle factors to slow the disease progression.
Summarize the safety issues associated with geriatric patients who drive and identify individuals who pose a safety threat.
Explain why wandering occurs in individuals with cognitive impairment and develop strategies to minimize or redirect this behavior.
Describe the environmental and behavioral cause of agitation.
Differentiate between appropriate and inappropriate sexual behaviors in individuals with dementia.
Distinguish between normal sleeping patterns and bedtime issues which could lead to increased health problems.
Analyze the physical and psychological changes that affect an elder's desire and ability to eat including the changes in nutritional requirements.
Identify the signs of caregiver stress and develop intervention strategies to prevent burnout.
[+]
[-]
078095 - Solve Challenging Dementia Behaviors
Differentiate Alzheimer's disease and other forms of dementia using a strengths-based, functional abilities model.
Demonstrate mindfulness interventions and techniques to use for people living with dementia.
Analyze attachment theory as it relates to people living with dementia, including attachment loss, separation distress, and challenging behaviors.
Evaluate the 5 Love Language framework as a "toolkit" to build the emotional love connection with those affected by Alzheimer's and other dementias.
Choose non-medication-based strategies to manage challenging behavioral expressions in people living with dementia.
Determine new frustration-ending alternatives to manage agitation, aggression, and other challenging behaviors.
Outline
[+]
[-]
073310 - Geriatric Pharmacology:
Aging and Pharmacodynamics
Effects of Aging on Drug Therapy
Variations in Drug Half-life and Clearance
Drug Dosing in Chronic Kidney Disease
Common Inappropriate & Over-prescribed Drugs
Identifying Subtle Clues to Prevent an Adverse Drug Reaction
Drug-Drug Interactions
The P450 System
The Magic Drug Number in the Elderly
The Top 10 Medications to Avoid
The Top 10 Drug-drug Interactions
Drugs Associated with Weight Loss
Strategies to Avoid Adverse Drug Events
Identifying Subtle Clues to Prevent an Adverse Drug Reaction
Individualizing a Monitoring Plan
Mandatory Gradual Dose Reduction (GDR)
The Garfinkel Method for Drug Discontinuation
The "BEERS Criteria"
What are the Experts Saying?
Follow the Criteria OR go with your Instincts?
When Inappropriate Drugs are OK
STOPP and START
New Recommendations
Guidelines by Body System
Putting it all Together - Still a Puzzle?
Controversial Vitamins & Herbal Supplements
Is your Multivitamin killing you?
After 19 years, the Research is in
Advising your Patients Appropriately
The Vitamins that Help & the Ones that Hurt
Psychopharmacology
Selecting the Right Medication
Challenges in LTC
Black Box WARNINGS
Dementia, Depression & Delirium
The 3 "Ds" in Geriatrics
Drugs that Cause Cognitive Impairment
Prescribing Challenges & Solutions
Cardiovascular

Digoxin, Amiodarone & the Risk of Orthostatsis
The New Anti-Hypertensive Guidelines

Neurological

The Risk of "Sleepers": Zolpidem, Eszopiclone, Zaleplon

Endocrinology

"Doc I've got a Low 'T'"
Eliminating Sliding Scales

Gastrointestinal

Risks of Proton-pump-inhibitors (PPIs)
Best Antiemetic Choices

Anticholinergics

Associated Psychosis
Increased Anxiety and Agitation

Antithrombotics

Is Aspirin Still Recommended?

Anti-Infectives

Antibiotic Stewardship
Drug Resistance Concerns
Major Contributors to Cdiff

Pain Meds

Newest Guidelines for Opioid Discontinuance
Alternatives to Opioids
[+]
[-]
078060 - Challenging Geriatric Behaviors
Normal Aging, Dementia, Depression or Delirium
Normal aging changes of the mind
Depression, dementia, and delirium
Alzheimer's disease and other dementias
Diagnose, differentiate, and develop a plan of care
Alzheimer's Disease
Stages
Assessment
Getting a diagnosis
Behavioral issues of early diagnosis
Management and interventions
Pharmacological treatments /li>
Driving with Dementia
Driving safety
Legal issues
Assess driving abilities
How to take the keys away
Wandering
Reasons why cognitively impaired individuals wander
Is wandering a bad thing?
Issues to consider
Manage a wanderer's behavior
Physical Aggression
Identify the cause of aggression
Loss of impulse control
Regression of the mind/child-like mind
Manage the problem
Inappropriate Sexual Behaviors
Normal sexual drive or inappropriate behavior
Cognitively impaired individuals
Medication management
Ethical considerations
Refusing to Eat/Forgetting to Eat
Reasons why geriatric patients slow or stop eating
Nutritional needs in a geriatric patient
Improve nutritional status
Malnutrition and dehydration
Alternatives to eating
Sleepless Nights
Sundowning and behavioral problems in the evening
Why does sundowning occur?
Environmental interventions to decrease aggressive behaviors
Medication management when it becomes problematic
Caregiver Stress
Physical, psychological, and emotional stress
Identify caregiver burnout and ways to help
Assist the caregiver
Other Issues
Ways to identify potential falls and prevent injury
Causes for orthostatic hypotension
Ways to avoid using restraints
Case Studies: Learning from Experience and Mistakes
How to manage sundowners
Strategies to improve hygiene
Reassurance and redirection
[+]
[-]
078095 - Solve Challenging Dementia Behaviors
When the Medical Model Doesn't Work
The medical model reimagined focusing on abilities, strengths, and resilience rather than disabilities, weaknesses, and neuropsychiatric symptoms
5 cognitive functions (attention/concentration, memory, executive function, language, visuospatial function)
Personality
Mood
Orientation
Alzheimer's disease and other forms of dementia
Transform how you think about and problem-solve common challenges in Alzheimer's disease and the other dementia types
Mindfulness & Dementia
Mindfulness reimagined in the setting of dementia
How mindfulness affects the autonomic nervous system
Associative vs. dissociative experiences through the lens of mindfulness
Embodied, sensory-based mindfulness strategies to use with people living with dementia
Attachment Theory & Dementia
Attachment theory reimagined in the setting of older adults
Dementia as the ultimate attachment loss
Separation distress responses in the person with dementia

The seeking response: Agitation, aggression, "going home," wandering, resisting care
The withdrawing response: Depression, apathy, anhedonia

Affirm, acknowledge, redirect: A simple, powerful attachment-based approach for challenging behavioral expressions of dementia
Strengthening Relationships: The 5 Love Languages and Dementia
Love reimagined in the context of dementia
5 Love Languages in practice – physical touch, quality time, words of affirmation, acts of service, and gifts
Dementia as an erosion of the "emotional glue" that bonds people together
Skills to foster emotional love connections and attachment bonds
Author
STEVEN ATKINSON, PA-C, MS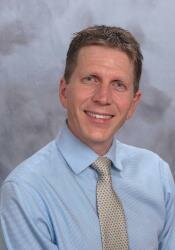 Steven Atkinson, PA-C, MS,
is a Board-Certified Physician Assistant specializing in Geriatric Internal Medicine. He practices medicine in the greater Minneapolis area. In addition to his private practice, he has been on the faculty at the University of Utah since 1994 and has been involved in medicine for over 30 years.
Steven is the co-founder of Twin Cities Physicians, which serves older adults in nearly all levels of their care. He has presented nationally for over 15 years, primarily speaking about geriatric-related syndromes. Steven is the author of
Geriatric Pharmacology: The Principles of Practice & Clinical Recommendations, Second Edition
(PESI, 2016) and also sits on several boards whose purpose is to elevate the level of care in medicine for the patients they serve. Steven has been described as a "dynamic" educator and one of the most engaging presenters around. Don't miss him!
Speaker Disclosures:
Financial: Steven Atkinson is the founder and co-owner of Twin Cities Physicians; and owner of Mindful Geriatrics, LLC. He is an Adjunct Faculty at the University of Utah. Mr. Atkinson receives royalties as an author for PESI Publishing and Media. He receives a speaking honorarium from PESI, Inc.
Nonfinancial: Steven Atkinson has no relevant nonfinancial relationship to disclose.
EDWARD G. SHAW, MD, MA
Edward G. Shaw, MD, MA, is dually trained as a physician and mental health counselor. He was the primary care partner for his late wife, Rebecca, who was diagnosed with early-onset Alzheimer's disease in 2008 at age 53 and died in 2016 after a 9-year journey.

Following training at the Mayo Clinic, Ed was a practicing academic radiation oncologist for 23 years, at Mayo then Wake Forest School of Medicine. In 2010, inspired by Rebecca's journey, his medical interest shifted to dementia diagnosis and treatment, and with his additional training in mental health counseling, he founded the Memory Counseling Program in 2011, part of the Section on Gerontology and Geriatric Medicine and the Sticht Center on Healthy Aging and Alzheimer's Prevention at Wake Forest Baptist Health in Winston-Salem, North Carolina. The program serves individuals, couples, and families affected by Alzheimer's disease or another type of dementia.

Along with coauthors Dr. Gary Chapman and Deborah Barr, in 2016 Ed wrote Keeping Love Alive as Memories Fade: The 5 Love Languages and the Alzheimer's Journey, which describes his moving personal story of caring for Rebecca coupled with an innovative use of the five love languages in dementia counseling. His newest books, The Dementia Care Partner's Workbook and A Leader's Manual for Dementia Care-Partner Support Groups, were released in June 2019.

Ed speaks locally, regionally, and nationally to audiences of dementia-focused healthcare professionals and care partners on the dementia journey. His dynamic, interactive speaking style and expertise as doctor, counselor, and caregiver resonate with those he shares with.

Speaker Disclosures:

Financial: Edward Shaw is the founder of the Memory Counseling Program. He is an author for Companion Press and receives royalties. Dr. Shaw receives a speaking honorarium from PESI, Inc.

Non-financial: Edward Shaw has no relevant non-financial relationships to disclose.
Contributors
Content Expertise - Steven Atkinson, PA-C, MS; Activity Planner - Becky Albricht, BS; Nurse Planner - Barbara Chamberlain, RN, BSN; Target Audience Consultants - Jim Koerner, RPh, Becky Lange, OTR/L, Mary Ellen Akan, MPT, Jack Klott, MSSA, LISW
Continuing Education Credits Awarded for Completion of Entire Package
[+]
[-]
Combined Continuing Education Credit From All Components
Breakdown of Continuing Education Credits by Components
[+]
[-]
073310 - Geriatric Pharmacology:
[+]
[-]
078060 - Challenging Geriatric Behaviors
[+]
[-]
078095 - Solve Challenging Dementia Behaviors
Audience
,
Nurses
,
Nurse Practitioners
,
Clinical Nurse Specialists
,
Physician Assistants
,
,
Physical Therapists
,
Physical Therapist Assistants
,
Occupational Therapists
,
Occupational Therapy Assistants
,
Speech-Language Pathologists
,
Social Workers
,
Home Healthcare Providers
,
Nursing Home Administrators
,
Registered Dietitians & Dietetic Technicians
,
Recreation Therapists
,
This seminar benefits multidisciplinary professionals who care for persons living with dementia and their family care partners. This includes:,
Licensed Professional Counselors
,
Psychologists
,
Psychiatrists
,
Speech-Language Therapists
,
Recreational Therapists
,
Nursing Home/Senior Living Administrators
,
Activity Directors
,
Certified Nursing Assistants
,
Anyone desiring next-level skills to proactively assess and intervene as challenging behaviors present
Other Associated Products:

Satisfaction Guarantee
Your satisfaction is our goal and our guarantee. Concerns should be addressed to PESI HealthCare, P.O. Box 1000, Eau Claire, WI 54702-1000 or call (800) 844-8260.

ADA Needs
We would be happy to accommodate your ADA needs; please call our Customer Service Department for more information at (800) 844-8260.