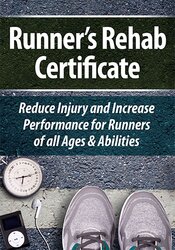 Product Details
Format:

Online Course

Authors:

JAMEY GORDON, PT, DPT, ATC, CSCS
BILL PIERCE
SCOTT MURR

Publisher:

PESI Rehab

Copyright:

8/31/2020

CE Available:

Yes, See CE credit tab for complete continuing education details

Product Code:

CRS001374
Objectives
[+]
[-]
063775 - Runner's Rehab Master Class:
Identify the latest advances in running rehabilitation and their implications for therapy
Outline strategies for more quickly identifying the root causes of pain and functional limitations
Integrate effective interventions that can be used immediately to eliminate pain, restore function, and improve running performance
Combine multiple modalities effectively for better results, including joint and soft tissue mobilization, stretching and strengthening techniques, orthotics, functional movement assessment, exercise, and patient education
Design advanced, innovative plans of care for a wide range of running impairments and performance enhancement goals
Apply the assessments and interventions discussed in this seminar to a series of interactive case scenarios
[+]
[-]
063890 - The Art and Science of the Perfect Run:
Assess the principles of training.
Examine physiological determinants of running performance.
Describe the FIRST "3plus2" training program.
Design an effective training program based on scientific principles.
Utilize cross-training effectively to supplement running.
Analyze running gait for recommending prehab and rehab stretches and strength training exercises.
Evaluate how aging affects running performance.
Utilize the 7-Hour Workout Week to enhance fitness while supporting healthy aging.
Outline
[+]
[-]
063775 - Runner's Rehab Master Class:
HOT TOPICS AND INNOVATIONS IN RUNNER'S HEALTH
How cutting edge research is helping patients cross the finish line
HANDS-ON LAB: UPGRADE YOUR ASSESSMENT AND CLINICAL REASONING SKILLS
Get to the root cause of impairments faster with better evaluation techniques for:

Foot, knee, shin, hip, and back pain
Movement dysfunction
Fascial and joint restrictions
Muscle tightness and weakness
Balance, stability and mobility
Nerve entrapments
HANDS-ON LAB: REVOLUTIONIZE YOUR REHAB TOOLBOX FOR RUNNING PATIENTS
Practice today's most effective techniques to:

Correct and enhance movement
Eliminate pain
Loosen tight muscles
Decompress entrapped nerves
Reduce reinjury
Boost speed, power and endurance
Enhance balance, coordination, stability and mobility
Improve patient buy-in
HANDS-ON LAB: COMBINE MULTIPLE TECHNIQUES MORE EFFECTIVELY FOR BETTER RESULTS
Practice integrating:

Joint mobilization
Soft tissue mobilization
Stretching and strengthening techniques
Orthotics
Functional movement assessment and targeted corrections
Home exercise prescription
Patient education
HANDS-ON LAB: DESIGN ADVANCED TREATMENT AND PERFORMANCE ENHANCEMENT PLANS FOR YOUR PATIENTS
Develop effective, innovative strategies for specific impairments, including:

Foot and heel impairments

Plantar fasciitis
Heel and foot pronation
Tibial torsion
Tight heel cords
Pronation

Knee and thigh impairments

Patellofemoral pain syndrome
Tendinitis/tendinosis
Stress fractures
Shin splints
Iliotibial band friction syndrome
Tight/strained calves
Tight/strained hamstrings
Femoral acetabular impingement
Genu varum (bow legging)
Limb length discrepancy

Hip and back impairments

Mechanical imbalance
Pelvic imbalance
Spinal curvature
Degenerative disk
Sacroiliac dysfunctions

Age-related degeneration
CASE STUDIES: PUT KNOWLEDGE TO PRACTICE
Case study 1: Correctly select the root cause of impairment
Case study 2: Identify and correct complex movement dysfunction
Case study 3: Evaluate and treat hip pain during running
Case study 4: Design an advanced treatment strategy and training plan for a high level athlete
Case study 5: Improve athletic performance and power output
Case study 6: Overcome barriers to effective strategy implementation
DON'T LEAVE MONEY ON THE TABLE!
Coding and billing updates for runner's rehab
Justify therapy with the right progress measures
Avoid denials and audits with these tips
[+]
[-]
063890 - The Art and Science of the Perfect Run:
Gait Analysis and Screening
Implement motion capture – Dartfish, Qualysis, Video
Strategies to Identify:

Faculty Mechanics
Muscular weakness
Poor flexibility
Assessments to Quickly Detect Issues: The Running Performance Model
Physiological factors responsible for running performance
Biomechanical factors responsible for running performance
Nutritional factors responsible for running performance
Run Less, Not Train Less: The FIRST Program
Apply to runners of all ages and abilities: 3 plus 2 program
Quality over quantity
Training with purpose
Functional strength training timeline
Flexibility exercises
Goal setting and prediction tables
Training programs for your clients
Determining workout intensity
Apply Principles of Training to Prevent Injury
Progressive overload
Specificity
Individual differences
Law of diminishing returns
Reversibility
Big Questions Answered! Tackle the Most Common Concerns
Heal-striking
Hamstring injury
Arthritis
Injury identification
Barefoot running
Running form
Orthotics
Running shoes
Running frequency
Weekly mileage
Running fast
Body weight
Stretching
Strength training
Cross-training
Running surface
Safe Returns: Getting Runners Back in Action Post-Injury
When is enough rest enough?
Tackling recurring injuries
Best practices to reduce risk of re-injury
Youth Forgives Many Sins – Work with Aging Runners
What happens to performance?
Which biological factors affect running?
Effects of psychological, social, and cultural factors
Alternatives and solutions for the aging runner
The 7-Hour workout week
Author
JAMEY GORDON, PT, DPT, ATC, CSCS
Jamey Gordon, PT, DPT, ATC, CSCS, is an expert in sports rehabilitation with over 20 years of experience guiding athletes to peak performance. Passionate about helping clients reach their full potential, he has worked with a host of professional athletes in the MLB, NFL, NBA, and Olympic levels, as well as thousands of youth, high school, collegiate, and recreational athletes. He serves as the director of athletic development at Pro X, where he oversees all rehabilitation, speed, strength, and agility training, and skill development activities.

Dr. Gordon travels nationally to present seminars on athletic development and sport rehabilitation, and he is known for his dynamic, hands-on teaching style. In addition, he serves as a fellowship mentor and clinical instructor for the physical therapy program at Washington University in St. Louis, his alma mater for both his master's and Doctoral degrees.

Speaker Disclosures:

Financial: Jamey Gordon is the Director of Athletic Development at Pro X. He receives a speaking honorarium from PESI, Inc.

Non-financial: Jamey Gordon has no relevant non-financial relationship to disclose.
BILL PIERCE
Dr. Bill Pierce chaired the Health Sciences Department at Furman University for three decades. He and FIRST have been featured in articles in The Wall Street Journal, The New York Times, Business Week, Men's Journal, Runner's World and many other newspapers and magazines across the country. Pierce, listed as one of 10 marathon "supercoaches" by Runner's World magazine, has made hundreds of presentations on fitness, wellness and running. As an intercollegiate athlete, he played on nationally ranked basketball teams and was a successful half-miler on the track team. He has captured many age-group awards in his 250 road races and 42 marathons, finishing the Boston Marathon in five different decades.

Speaker Disclosures:

Financial: William Pierce professor at Furman University. He is an author for Penguin Random House and receives royalties. Dr. Pierce receives a speaking honorarium from PESI, Inc.

Non-financial: William Pierce has no relevant non-financial relationship to disclose.
SCOTT MURR
Dr. Scott Murr, assistant professor in the health sciences department joined the Furman faculty in 1998. Dr. Murr has served as the Director of the Furman Fitness Center and Aquatics for 15 years and is also the Director of the Molnar Human Performance Laboratory. Scott Murr is a 35-year veteran in the sport of triathlon and has been running marathons even longer. From marathons to cycling centuries to triathlons, Scott has competed in over 300 endurance events. Scott is a 12-time Ironman Triathlon finisher, having competed in Ironman Europe, Ironman Canada, Ironman USA with six finishes at the Ironman Triathlon World Championship in Kona Hawaii.

Speaker Disclosures:

Financial: Scott Murr is an assistant professor at Furman University. He is an author for Penguin Random House and receives royalties. Dr. Murr receives a speaking honorarium from PESI, Inc.

Non-financial: Scott Murr has no relevant non-financial relationship to disclose.
Continuing Education Credits Awarded for Completion of Entire Package
[+]
[-]
Combined Continuing Education Credit From All Components
Breakdown of Continuing Education Credits by Components
[+]
[-]
063775 - Runner's Rehab Master Class:
[+]
[-]
063890 - The Art and Science of the Perfect Run:
Audience
,
Physical Therapists
,
Physical Therapist Assistants
,
Occupational Therapists
,
Occupational Therapy Assistants
,
Athletic Trainers
,
Certified Strength and Conditioning Specialists
,
Exercise Physiologists
,
,
Physical Therapist
,
Personal Trainers
,
Physicians
,
Coaches
,
Other Rehab Professionals
Satisfaction Guarantee
Your satisfaction is our goal and our guarantee. Concerns should be addressed to PESI HealthCare, P.O. Box 1000, Eau Claire, WI 54702-1000 or call (800) 844-8260.

ADA Needs
We would be happy to accommodate your ADA needs; please call our Customer Service Department for more information at (800) 844-8260.