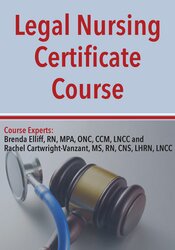 Product Details
Format:

Online Course

Authors:

ROSALE LOBO, PHD, MSN, RN, CNS, LNCC
BRENDA ELLIFF, RN, MPA, ONC, CCM, LNCC
RACHEL CARTWRIGHT-VANZANT, PHD, MS, RN, LHRM, LNCC, CCRN-K

Publisher:

PESI HealthCare

Copyright:

6/30/2020

CE Available:

Yes, See CE credit tab for complete continuing education details

Product Code:

CRS001215
Objectives
[+]
[-]
077965 - 3 Day: Legal Nurse Intensive Training Course
Analyze how the nursing standards of care can come under scrutiny.
Evaluate authoritative sources.
Distinguish between a care plan and the care planning process.
Identify a strategic nursing documentation system.
Describe how documentation is used to decide if you are innocent or guilty in a lawsuit.
Identify how to prevent risky behavior when using social media and other forms of electronic communication.
Define how to use best practice and standard of care for documenting incident reports and adverse events.
Analyze the Center for Medicare and Medicaid regulatory language on nursing documentation.
Formulate a strategic tool for your standard of practice.
Evaluate deposition proceedings.
Analyze timeline chronologies.
Explain defense and plaintiff allegations.
Integrate the correct practices into your documentation to reduce litigation exposure.
Summarize the common documentation mistakes and how to avoid/correct them.
Evaluate facility policy and procedures for potential risk.
Illustrate the litigation timeline.
Formulate deposition questions as the plaintiff and/or defense teams.
Practice litigation language during mock depositions.
[+]
[-]
078115 - Legal Risks for Nurses:
Evaluate the prevalence of nursing mistakes, with legal consequences.
Explain common legal pitfalls in nursing practice.
Demonstrate the three major areas the plaintiff must prove: existence of duty, breach of duty and injury.
Assess documentation samples to avoid litigation and regulatory deficiencies.
Distinguish a nurses' trial appearance and presentation, to contribute beneficially to the case.
Anticipate strategies to avoid high risk errors related to falls, wounds, abuse … and more.
Outline
[+]
[-]
077965 - 3 Day: Legal Nurse Intensive Training Course
Healthcare Litigation
Evolving trends in nursing litigation today
The essence of the story behind litigation
The burden of proof
The expert witness seals the deal. Understand the impact.
Learn whether you should (or shouldn't) have your own malpractice coverage
The Components of Documentation
Guidelines and interpretation
Avoiding mistakes
A lawyer's secret weapon: Time stamping on YOUR documentation
Social networking and indirect care
Timeline chronology and mapping the case
Electronic Nursing Documentation
American Recovery and Reinvestment Act
Meaningful Use
Risky electronic documentation practices
Charting by exception
Dangers of email, social networking, and texting
Should you make a late chart entry? Or not …?
Avoid the hazards of dropdown boxes in your medical record system
Electronic Medical Record Strategies
Time management
Liability
Software knowledge/Informatics
Does the case have merit?
Reimbursement and Documentation
Medicare and Medicaid Changes
Incentives for participation
Hospital Acquired Conditions
Elements of a Lawsuit
Plaintiff complaints
Medical record review
Timeline chronology
Evidence
Plaintiff deposition testimony
Documentation: When Things Go Wrong
Compliance
Unsafe processes
Regulations
Incident reporting
Adverse events and risk factors
When to ask/demand help from a supervisor
When the patient must transfer out
Standards that are within standards
Deviations, real or perceived
Errors of omission and commission
Communicating clearly
Defense deposition testimony
Avoiding Risky Documentation
Credible evidence
Avoiding ambiguity
Recording events objectively
Late entries and correcting errors
What if the Worst Happens
Duty/Breach of Duty
Nurse Practice Act
State Board of Nursing
Depositions
[+]
[-]
078115 - Legal Risks for Nurses:
Nursing Liability and Negligence
Nursing standards
Duties
Supervision
Delegation
Multiple case studies
Nurse Practice Acts
Changes in scope of practice
Requirements every nurse must know!
Reporting abuse/neglect
Patient abandonment
Common Errors and Claims Staffing
Assignments
Rights when floating
Unsafe staffing
What should you do if you make an error?
Should you buy malpractice insurance?
Does it make you a target?
Will your employer's coverage protect you?
Documentation
The do's and don'ts of good charting
Problems with EHRs
Real charting examples and solutions
Confidentiality
HIPAA myths
Nurses fired and prosecuted for breaches in confidentiality and posting online
Informed Consent
Who has authority to consent?
Capacity to consent?
Plus, DNRs, End of life issues, and more
Boards of Nursing
Most frequent charges against nurses
Your rights
When do you need an attorney?
What can you do to protect your license?
Case examples
Nurse Whistleblower Protection Laws
Author
ROSALE LOBO, PHD, MSN, RN, CNS, LNCC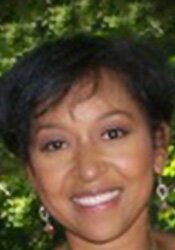 Rosale Lobo has 30 years of combined experience as a direct care nurse, faculty, administrator, and legal nurse consultant. Rosale is a staff nurse at a large teaching hospital in Connecticut and serves as clinical faculty at Southern Connecticut State University. She began working with attorneys in North Carolina and expanded her independent legal nurse consulting practice to New York, Georgia, Colorado, and Connecticut. Plaintiff medical malpractice attorneys have utilized her expertise as both an expert witness and a "behind-the-scenes" consultant.
Rosale is a BSN graduate from Long Island University, earned her master's degree from Hunter College with
magna cum laude
distinction and her PhD from Walden University, focusing her dissertation research on Nursing Documentation. Rosale is the author of
Guilty or Innocent: Protecting Your License Through Proper Nursing Documentation
(PHC Publishing Group, 2012). She is a member of the American Nurses Association, American Association of Legal Nurse Consultants, past educational board member for the Connecticut Association of Legal Nurse Consultants, and the American Society of Public Administration.
Speaker Disclosures:
Financial: Rosale Lobo is an Adjunct Clinical Faculty for Southern Connecticut State University and Gateway Community College. She receives royalties as an author for PESI Publishing & Media. Ms. Lobo receives a speaking honorarium from PESI, Inc.
Non-financial: Rosale Lobo has no relevant non-financial relationship to disclose.
BRENDA ELLIFF, RN, MPA, ONC, CCM, LNCC
Brenda Elliff, RN, MPA, ONC, CCM, LNCC, established Elliff Medical-Legal Services in 1996. As a legal nurse consultant, she assists on both plaintiff and defense cases. She performs record reviews, develops strategies and provides expert witness preparation. Her work involves Medical Malpractice, Worker's Compensation, Personal Injury and a variety of legal cases. Previously, Brenda worked as a Health Care Coordinator for a large law firm and taught a Legal Nurse Consultation review course. Initially, she began working with attorneys on legal cases in California and has now expanded her scope throughout the Pacific NW.

Her clinical nursing experiences are vast and span 40 years. Brenda has worked as a staff nurse, as a nurse manager at major teaching facilities, as nurse case manager and as an adjunct nursing professor.

When not nursing, Brenda enjoys participating with a local performing group. The group has performed at the LA Christmas Parade, 75th Anniversary of Pearl Harbor Parade in Honolulu and the Washington DC Cherry Blossom Parade. Past nurses who have attended Brenda's programs have appreciated the dynamic and fun way in which she can deliver excellent clinical and legal information. She has been a sought-after speaker at national, state and local levels, on a variety of topics that draw from her areas of expertise. Speaker Disclosures:

Financial: Brenda Elliff maintains a private practice. She receives a speaking honorarium from PESI, Inc.

Nonfinancial: Brenda Elliff has no relevant nonfinancial relationship to disclose.
RACHEL CARTWRIGHT-VANZANT, PHD, MS, RN, LHRM, LNCC, CCRN-K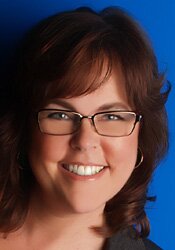 Rachel Cartwright-Vanzant, Ph.D., MS, LHRM, CCRN-K
is an innovative educator using effective strategies to help nurses to easily understand complex concepts to avoid patient crisis. She is a legal nurse consultant, licensed healthcare risk manager and published author in peer reviewed journals. Her clinical insights have been sought to evaluate medical records for compliance with standards of care, including medication errors. Rachel delivers more than basic textbook information, because her presentations tap into her extensive experience in various clinical care roles. She is known in the healthcare industry as a patient safety expert, delivers keynote speeches, and provides expert witness testimony in court regarding nursing care and documentation deficiencies. Rachel connects immediately with her audience, because her humor and entertaining presentation style turns seemingly boring topics into fun conversations.
Speaker Disclosures:
Financial:
Rachel Cartwright-Vanzant is the Owner of Medical Legal Concepts, LLC. She is an Adjunct Instructor for the School of Nursing at Palm Beach State College. Ms. Cartwright-Vanzant receives a speaking honorarium from PESI, Inc.
Nonfinancial:
Rachel Cartwright-Vanzant has no relevant nonfinancial relationship to disclose.
Continuing Education Credits Awarded for Completion of Entire Package
[+]
[-]
Combined Continuing Education Credit From All Components
Breakdown of Continuing Education Credits by Components
[+]
[-]
077965 - 3 Day: Legal Nurse Intensive Training Course
[+]
[-]
078115 - Legal Risks for Nurses:
Audience
,
Nurses
,
Nurse Practitioners
,
Clinical Nurse Specialists
,
Nurse Educators
,
Legal Nurse Consultants
,
Risk Management
,
Paralegals
,
Attorneys
,
,
Advanced Practice Nurses
Satisfaction Guarantee
Your satisfaction is our goal and our guarantee. Concerns should be addressed to PESI HealthCare, P.O. Box 1000, Eau Claire, WI 54702-1000 or call (800) 844-8260.

ADA Needs
We would be happy to accommodate your ADA needs; please call our Customer Service Department for more information at (800) 844-8260.