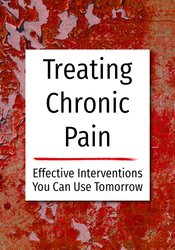 Product Details
Format:

Online Course

Details:

Downloadable/Streaming MP4 Video and MP3 Audio with electronic manual and instructions.

Authors:

MARTHA TEATER, MA, LMFT, LCAS, LPC
DONALD TEATER, MD, MPH
BRUCE SINGER, PSY.D.

Publisher:

PESI Inc.

Copyright:

5/28/2019

CE Available:

Yes, See CE credit tab for complete continuing education details

Product Code:

CRS001309
Objectives
[+]
[-]
095942 - Opioids and Chronic Pain
Discover what's behind the opioid misuse/chronic pain link and how to reduce your clients' reliance on opioids
Discover how to better understand and address clients' fears and feelings by recognizing the intersecting neurophysiology of pain and opioid misuse
Discover how to help clients use cutting-edge, evidence-based tools to treat chronic pain, like modifying thought distortions, decatastrophizing, imagery and breathing
[+]
[-]
053560 - The Chronic Pain Tool Box:
Specify the difference between chronic pain and a complex chronic pain syndrome and how conventional treatments (including MAT, procedures, and surgery) often "make it worse."
Delineate the difference between physical pain and emotional suffering and how the 5 Big Negative Emotions magnify the pain experience as it relates to clinical practice.
Establish the ability to conduct an effective biopsychosocial assessment of chronic pain and use pain scales to recalibrate pain levels and increase wellness in a clinical setting.
Utilize cognitive restructuring to assist clients in creating "black duck moments" in session that will change their perspective on their pain experiences and motivate them to live more active and purposeful lives.
Practice 3 ACT interventions to defuse the impact of chronic pain and increase client commitment to positive behavioral change for symptom management.
Implement 4 mindfulness-based interventions to empower clients to manage their pain by going FAR.
Integrate the power of gratitude into your practice to decrease pain and increase wellness to improve treatment outcomes.
Develop the competency to guide a multidisciplinary approach to pain management that connects pain clients and families to resources beyond therapy to improve client level of functioning.
Outline
[+]
[-]
095942 - Opioids and Chronic Pain
Introduction
Opioid Facts
Opioid Increase
3 Key Concepts
Pain
Types of Pain
Pain Pathways
Central Sensitization
Radio Frequency Denervation
Opioid Withdrawal Pain
Opioids
What is an Opioid?
Dopamine & Opioid Receptors
The "Dorothy Reaction"
Addiction
Prescription Opioid Use & Abuse
Chronic Pain on Opioids vs. Opioid Use Disorder with Pain
Opioids & Acute Pain
Definition of Acute Pain
Efficacy of Pain Medications for Acute Pain
Opioids & Chronic Pain
Definition of Chronic Pain
Central Sensitization Inventory
Treatment of Chronic Pain
Treatment of Opioid Use Disorder
Behavioral Treatment of Chronic Pain
[+]
[-]
053560 - The Chronic Pain Tool Box:
The Chronic Pain Dilemma

Pain and its impact on society

Neurophysiology and psychology of pain
Benefits and the risks of opioids
Pain and the family

Complex Chronic Pain

The progression from acute to chronic pain (physical and emotional factors)
Chronic pain syndrome and its constellation of symptoms
Conventional treatments and why they fail

Pain vs suffering: What are we really treating?

The 5 big "negative" emotions that magnify pain
The number one rule in pain management
Strategies to un-attach pain from suffering

Assessment

The Interview

Validation and the therapeutic alliance
Collect a biopsychosocial history
Co-occurring disorders and other risk factors

The Battery

Useful self-report measures
Interpretation of results for case conceptualization
Effective treatment planning

The Chronic Pain Toolbox

Best Practice Guidelines and treatment options

APA Division 12 recommendations
CDC and government recommendations
Empathy and the power of the therapeutic alliance

Cognitive Behavioral Therapy

Unleash "black ducks" to eat up ANTs
Harness the power of client's own words
Recalibrate Pain: a cognitive approach
Mindfulness
Why mindfulness is essential for the treatment of chronic pain
4 creative interventions to help clients see "What is NOT wrong with me"
The FAR approach and how it resonates with clients
Limitations of the psychotherapeutic approach

Acceptance and Commitment Therapy

Cognitive defusion and how to use it with clients
The Values Compass and how to help clients find their True North
Develop motivation and commitment
Limitations of the psychotherapeutic approach

Gratefulness

The hidden power of gratefulness and its evidence for chronic pain
3 gratitude interventions that directly impact the pain experience

More Tools You Can Use

Include the family in treatment
Effective sleep hygiene
Multidisciplinary treatments: when and how to use them
The T.E.M.P.L.E.S.S hand-out you can share with clients
Patient advocate resources
Recovery resources
Author
MARTHA TEATER, MA, LMFT, LCAS, LPC

Martha Teater, MA, LMFT, LCAS, LPC,
is a Diplomate with the Academy for Cognitive Therapy and is a practicing cognitive-behavioral therapist. She has maintained a private practice for over 25 years. She has worked in primary care settings, free clinics, and medication-assisted treatment programs. Martha is a Red Cross disaster mental health manager and has been on many national disaster deployments where she provides support to traumatized people. She is also involved with the Red Cross Service to the Armed Forces to develop programs to support military and veteran families.
She has provided trainings in the United States and internationally on topics such as evidence-based treatments for trauma, DSM-5®, compassion fatigue, and behavioral treatment of chronic pain. A prolific writer, Martha has published over 175 articles in newspapers and magazines, including
Psychotherapy Networker
and
Family Therapy Magazine.
Martha is the co-author (with John Ludgate) of
Overcoming Compassion Fatigue: A Practical Resilience Workbook
(PESI, 2014) and (with Donald Teater)
Treating Chronic Pain: Pill-Free Approaches to Move People From Hurt To Hope
(PESI, 2017).
Speaker Disclosures:
Financial: Martha Teater maintains a private practice. She receives a speaking honorarium from PESI, Inc.
Non-financial: Martha Teater is a Clinical Member of the American Association for Marriage and Family Therapy.
DONALD TEATER, MD, MPH
Don Teater, MD, MPH, is a family physician who has lived and worked in western North Carolina since 1988. Dr. Teater works entirely with patients who have addiction and mental health disorders, and is a national expert in the areas of pain, addiction, and opioids. He has several years' experience working with the Centers for Disease Control, the National Safety Council, and many other state and federal agencies and community organizations on the opioid issue.

Speaker Disclosures:

Financial: Don Teater is the owner of Teater Health Solutions. He has an employment relationship with Meridian Behavioral Health Services. Dr. Teater receives a speaking honorarium from PESI, Inc.

Non-financial: Don Teater has no relevant non-financial relationship to disclose.
BRUCE SINGER, PSY.D.
Bruce F. Singer, Psy.D. is a licensed psychologist and nationally recognized expert on psychosocial treatments for chronic pain and substance use disorders. He was the founding director of the Chronic Pain and Recovery Center at Silver Hill Hospital, one of the most prestigious psychiatric hospitals in the United States. He maintains a private practice and consults internationally with treatment centers.

Dr. Singer sits on the Medical Advisory Board of the U.S. Pain Foundation and on the Board of Chronic Pain Anonymous where he is an outspoken advocate for helping individuals with chronic pain obtain effective treatment. An inspirational speaker known for his creativity and sense of humor, Dr. Singer has presented at Grand Rounds and pain and addiction conferences throughout the United States. He is the author of numerous professional articles on psychosocial treatments for chronic pain and substance abuse, and his guided meditations and educational videos are readily available on the web. He recently authored Black Duck Moments Every Day, a book of daily affirmations for people with chronic conditions as well as 99 Black Duck Moments, an eBook based on his original memes and videos.

Speaker Disclosures:

Financial: Bruce Singer is in private practice. He receives a speaking honorarium from PESI, Inc.

Non-financial: Bruce Singer is a member of the Medical Advisory Board for the U.S. Pain Foundation.
Continuing Education Credits Awarded for Completion of Entire Package
[+]
[-]
Combined Continuing Education Credit From All Components
Breakdown of Continuing Education Credits by Components
[+]
[-]
053560 - The Chronic Pain Tool Box:
[+]
[-]
085190 - Treating Chronic Pain
[+]
[-]
095942 - Opioids and Chronic Pain
Audience
,
Psychologists
,
Physicians
,
Addiction Counselors
,
Counselors
,
Social Workers
,
Marriage & Family Therapists
,
Nurses
,
Other Behavioral Health Professionals
,
, Psychotherapists, Occupational Therapists, Case Managers, Marriage and Family Therapists, Physical Therapists, Physical Therapist Assistants, Nurse Practitioners, Other Helping Professionals
Satisfaction Guarantee
Your satisfaction is our goal and our guarantee. Concerns should be addressed to PESI HealthCare, P.O. Box 1000, Eau Claire, WI 54702-1000 or call (800) 844-8260.

ADA Needs
We would be happy to accommodate your ADA needs; please call our Customer Service Department for more information at (800) 844-8260.