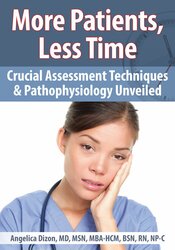 Product Details
Format:

Online Course

Authors:

ANGELICA F. DIZON, MD, BSN, MBA-HCM, RN
SEAN G. SMITH, RN, BSN, NREMT-P, C-NPT, CCRN, CMC, CEN, CFRN, FP-C, CPEN

Publisher:

PESI Inc.

Copyright:

7/21/2018

CE Available:

Yes, See CE credit tab for complete continuing education details

Product Code:

CRS001270
Objectives
[+]
[-]
076610 - Hands-On Physical Assessment:
Assess where and why vesicular, bronchovesicular and bronchial sounds can be normal or abnormal and the significance of the abnormalities.
Interpret pathophysiology and differential diagnoses for crackles, wheezes, rhonchi and rubs.
Discuss management of obstructive vs. restrictive lung disease.
Practice a thorough 6-part neurological exam and document findings.
Evaluate primary causes of mental status changes and patients most at risk for delirium for quick intervention.
Distinguish whether abnormal S1 and S2 heart sounds are pathological or benign.
Determine whether systolic and diastolic murmurs indicate cardiac disease.
[+]
[-]
076955 - Understanding Pathophysiology:
Using clinical examples, explain the statement: "Virtually all human disease is 'autoimmune' in nature."
Outline an effective method to review options in pharmacologic therapy for any condition.
Identify the self-destructive spiral of progressive chronic heart failure.
Explain how the following drugs may abort or reverse the self-destructive spiral of heart failure: beta-blockers, angiotensin converting enzyme (ACE) blockers, angiotensin-receptor blockers (ARBS), aldosterone blockers, synthetic natriuretic proteins.
Describe why the statin drugs significantly reduce a person's risk of cardiovascular disease (MI and stroke), regardless of the serum cholesterol level.
Describe the mechanism underlying death in asthma and identify a way to prevent it.
Apply the "Three Question Approach" to interpretation of arterial blood gases.
Breakdown the "common mechanism" for shock, regardless of the initial cause.
Outline
[+]
[-]
076610 - Hands-On Physical Assessment:
Head-to-Toe Approach - Learn tips, tricks, and tools to conduct a quick and precise head-to-toe assessment
Assess the patient using the most comprehensive approach
Evaluate baseline and identify patient status changes
Devise tips and tools to perform a more efficient exam without missing key clues
Conduct proper assessment skills - inspection, palpation, percussions, auscultation
Neurological Exam - Mastering the 6-Part components of a Neuro exam in less time
Unraveling the 6-Part components of a thorough Neurological Examination
ABCT Components of Mental Status
Key points and clues of using Confusion Assessment Method (CAM) Instrument and what can be diagnosed as a result
Evaluate an efficient and accurate assessment of normal vs. abnormal findings for: altered mental status, cranial nerves, motor, sensory, cerebellar functions, reflexes
Danger Signs for abnormal findings and how to identify diseases by physical examination
LIVE PARTNER DEMOS: Practice with case studies and proper assessment

Key clues you can't miss
Risk factors, readings, subjective and objective data
Plan of care
Respiratory Exam - Identifying the different breath sounds and their locations to narrow down diagnosis
Physical assessment of the respiratory system - key points of normal anatomy to remember
Identification of normal, abnormal, decreased or absent breath and lung sounds
Assessment and techniques of Tactile Fremitus, percussion, lung auscultation
Interpreting what you are hearing and what you should expect to hear:
Bronchial, Broncho-vesicular, Vesicular Breath Sounds
Bronchophony, Egophony, Whispered Petroliloquy
Death Rattle, Absent Breath Sounds
Learning the adventitious sounds like Crackles, Rhonchi, Stridor, Wheezes and what to do with them
What Lung Sounds to expect in different disease states
LIVE PARTNER DEMOS: Practice with sounds: Listen, assess, and learn
Cardiac Exam - Knowing the different murmurs, their presentation, sounds and location to accurately pinpoint the disease process
Examination of mitral, tricuspid, pulmonary, and aortic
Auscultation sites, sequencing and skills
Characteristics of a functional murmur
How to identify?
7-point classification
When does a murmur become pathologic?
Strategies for detection of abnormal cardiac sounds
LIVE PARTNER DEMOS: Practice and learn with examples
[+]
[-]
076955 - Understanding Pathophysiology:
Endocrine and Metabolic Problems
Pituitary disorders
Hypoglycemia
Free radicals — Essential in health, deadly in disease
Diabetic ketoacidosis
Apoptosis
Adrenal gland dysfunction
Addison's disease
Jaundice
Implications of hormones
Thyroid disorders - Mechanism of onset affects treatment
Cardiovascular and Renal Problems
Starling's Law - Normal capillary flow
Heart failure
Relationship between cardiac diseases and hypertension
Unraveling hypertension
Current concept on cardiogenic shock
Atherosclerosis - The role of inflammation
Anaphylaxis
Acid-base disorders
Respiratory Problems
Chronic obstructive pulmonary disease exacerbations
Obstructive lung diseases affecting the mechanics of lung ventilation
Sudden death in asthma
Acute lung failure/ARDS
Arterial blood gases - Made simple
Shock
Common mechanisms of all types of shock
The cardinal role of mediators in shock
Newer therapies based on current pathophysiological understanding
End points of resuscitation
What type of shock is this?
The Immune System
Inflammation - Acute phase response
Systemic inflammatory response
Infection – Part of a bigger picture
Multiple organ dysfunction syndrome
Stress reaction
Autoimmune diseases
Author
ANGELICA F. DIZON, MD, BSN, MBA-HCM, RN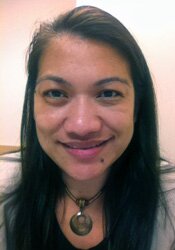 Angelica F. Dizon is a doctor of medicine and a registered nurse, with more than two decades of experience in clinical practice and academic teaching, both in the hospital setting and academia. Angelica has been well recognized for her past work in medical surgical roles, and has also gained experiences working in home health care and skilled nursing. More recently, she has served as the director of clinical services in one of the leading home healthcare agencies in Maryland.
Her diverse experiences have provided her with a unique perspective on the importance of having an in-depth understanding of pathophysiology to facilitate the highest level of disease management and patient care. Angelica excels at putting complex topics into "plain English". This skill, combined with her vast medical and nursing experiences, ensure a highly informative and enjoyable day - for an interdisciplinary audience.
Disclosures:
Financial:
Angelica F. Dizon is a faculty member for Radians College. She receives a speaking honorarium from PESI, Inc.
Nonfinancial:
Angelica F. Dizon has no relevant nonfinancial relationships to disclose.
SEAN G. SMITH, RN, BSN, NREMT-P, C-NPT, CCRN, CMC, CEN, CFRN, FP-C, CPEN
Sean G. Smith has experience in both emergency care and critical care. He has written neo-natal/pediatric pharmacology CE exams for the American Association of Critical Care Nurses, as well as writing for Mosby clinical updates. He has practiced and taught critical/emergency care and pre-hospital emergency medical services for over 20 years. Career highlights include research in molecular endocrinology, serving in the US Navy, a wide variety of ICUs, flight nursing, and medical missions, as well as offering medical support to NASA. Sean lectures at the national level and has extensive text review/exam writing/contributing author credits. He holds multiple advanced specialty certifications in critical care, emergency, and flight nursing, as well as cardiac medicine, and neonatal/pediatric critical care transport.

Sean is a dedicated and respected educator serving as an official Instructor for Neonatal Resuscitation Program (NRP), Basic Life Support (BLS-RF), Pediatric Advanced Life Support (PALS-RF), Advanced Cardiac Life Support (ACLS-RF), Tactical Combat Casualty Course (TCCC), Geriatric Education for Emergency Medical Services (GEMS), Fundamentals of Critical Care Support (FCCS), and Pediatric Fundamentals of Critical Care Support (PFCCS-IC).

Speaker Disclosures:

Financial: Sean G. Smith receives a speaking honorarium from PESI, Inc.

Non-financial: Sean G. Smith has no relevant non-financial relationships to disclose.
Continuing Education Credits Awarded for Completion of Entire Package
[+]
[-]
Combined Continuing Education Credit From All Components
Breakdown of Continuing Education Credits by Components
[+]
[-]
076610 - Hands-On Physical Assessment:
[+]
[-]
076955 - Understanding Pathophysiology:
Audience
Nurses, and other Healthcare Professionals, Occupational Therapists & Occupational Therapy Assistants, Physical Therapists/Physical Therapist Assistants, Physician Assistants, Respiratory Care Practitioners
Satisfaction Guarantee
Your satisfaction is our goal and our guarantee. Concerns should be addressed to PESI HealthCare, P.O. Box 1000, Eau Claire, WI 54702-1000 or call (800) 844-8260.

ADA Needs
We would be happy to accommodate your ADA needs; please call our Customer Service Department for more information at (800) 844-8260.