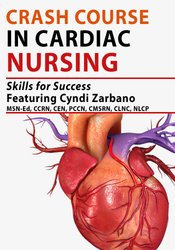 Product Details
Format:

Online Course

Author:

CYNDI ZARBANO, MSN, BSN, CCRN, CEN, PCCN, CMSRN, CLNC

Publisher:

PESI HealthCare

Copyright:

5/1/2018

CE Available:

Yes, See CE credit tab for complete continuing education details

Product Code:

CRS001254
Objectives
[+]
[-]
077545 - 2-Day Crash Course in Cardiac Nursing
DAY 1
Employ proper technique for measuring jugular vein distention (JVD).
Contrast systolic and diastolic murmurs by where they fall in the S1/S2 cardiac cycle.
List 3 benefits of beta blockers in a patient with coronary artery disease.
Identify benefits for patients using blood thinners in atrial fibrillation that is not related to valve dysfunction.
Differentiate findings on the 12-lead EKG to determine if a patient has axis deviation and what health care issues that may identify.
Explain a simple monitoring technique to help differentiate if the patient is having an atrial dysrhythmia or not.
Identify EKG clues to patients having aberrant pathways.
DAY 2
Explain the difference between systolic and diastolic heart failure using a simple hand gesture to recognize ventricular dysfunction for each.
Stage heart failure using the American Heart Association/American College of Cardiology tool and identify intervention goals for each stage.
Compare the use of the Impella device and intra-aortic balloon pumps in severe cardiac impairment.
Evaluate findings in common cardiac labs, such as CKMB, Troponin, BNP/ Pro-BNP levels.
Recognize 2 tools of recognition and 4 rapid interventions for patients experiencing Acute Coronary Syndrome (ACS).
Describe the decision-making process for stroke prevention in the patient with atrial fibrillation.
[+]
[-]
077695 - ABG & Rhythm Analysis Made Easy
Specify two common causes of ABG abnormalities.
Analyze how the body compensates when the pH is outside of normal limits.
Utilize 5 questions to help identify common rhythm changes.
Outline
[+]
[-]
077545 - 2-Day Crash Course in Cardiac Nursing
DAY 1
Cardiovascular Assessment: Critical Clues You Should NEVER Miss
Impending Doom: Recognizing the Red Flags
Neck Vein Evaluation
What Does the Blood Pressure Really Mean?
Don't Miss a Beat Interpreting Heart Sounds
Significant Murmurs
Rapid Stabilizing Interventions
Life-Threatening EKG Changes: Clues From the 12-Lead
Location, Location, Location! Anatomy of the 12-Lead
3 Rules of Recognition
Cardiac Axis: Meaning & Assessment
Recognition of RBBB & LBBB
STEM I & NSTEM I -- What's the Difference
Fast & Slow Dysrhythmias
Choosing Your Monitor Leads Wisely
Identifying AV Passive & Active Tachycardias
Aberrant Pathways
Atrial Fibrillation with WPW
AV Node Re-entry Rhythms
Mono and Polymorphic V-Tach
Heart Blocks
Critical Nursing Actions
Cardiovascular Drug Cabinet from A to Z
The Latest Updates & Recommendations
Medications that Impact Cardiac Output
Vasoactive Medications
Medications that Impact Clotting
Treating Hyperlipidemia
Management Strategies for Hypertension
Nursing Implications for Administration
Polypharmacy
Precautions with the Elderly Patient
DAY 2
Acute Coronary Syndrome: Diagnosis & Management Guidelines
STEM I vs. NSTEM I Treatment Strategies
Critical Cardiac Labs
EKG Interpretation: Identifying the Differences
Urgent vs. Emergent Interventions
Managing Complications
The Failing Heart: Acute Management Priorities
Systolic vs. Diastolic Heart Failure
Classification Systems
Acute Medication Protocols
Nursing Considerations With:
Biventricular Pacing
Implantable Cardioverter Defibrillators
Intra-Aortic Balloon Pump
Cardiac Emergencies: Risk, Recognition, & Response
Bedside Assessment Clues
Key Interventions for:
Pulmonary Embolus
Myocardial Rupture/Tamponade
Tension Pneumothorax
Aortic Dissection
Critical Thinking Checkpoints
Emergency Interventions for Atrial Fibrillation
Critical Decision-Making: The Decompensating Patient
Pharmacological Management Strategies to:
Control Rate
Control Rhythm
Prevent Stroke
Current Treatment Recommendations:
Cardioversion
Ablation
Surgical Intervention
Key Nursing Assessments & Interventions
[+]
[-]
077695 - ABG & Rhythm Analysis Made Easy
Pulmonary Labs
Understanding Acid/Base Compensation
Identifying the Abnormal Values in 4 Easy Steps
Rhythm Analysis in 5 Steps
Tachy Rhythms
Fast Fatal Rhythms
Practice, Practice, Practice!
Author
CYNDI ZARBANO, MSN, BSN, CCRN, CEN, PCCN, CMSRN, CLNC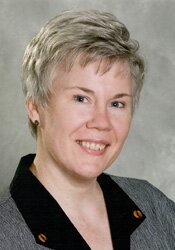 Cyndi Zarbano is an intensive care nurse with over 20 years of nursing experience who is currently practicing in the Twin Cities area of Minnesota. She is a nationally-recognized seminar speaker who has opened multiple national symposiums and speaks on several topics for PESI, as well as a variety of other companies in the US and Canada. In addition to her speaking engagements, Cyndi is a published author with a variety of books including
Clinical Nursing Assessment Skills Pocket Guide
and the
Med-Surg Pocket Guide
. Her products also include textbooks, webcasts and webinars.
Along with her MS and BSN in nursing, she has 3 other undergraduate degrees and multiple nursing certifications. She served as a US Naval Officer for 10 years, leaving service as an LCDR (Lieutenant Commander) in 2001. Prior to nursing, she worked as a counselor with the mentally ill and dangerous in a facility in southern Minnesota. She returned to that facility as a Lead Psychiatric Nurse for two years after leaving the military. Additionally, Cyndi has a legal nurse consulting business and continues to serve as a testifying expert in medical related cases. Cyndi's teaching style is dynamic and high energy while informal and easy to understand. You will leave her program with a renewed commitment to achieving nursing excellence in critical care.
Speaker Disclosures:
Financial: Cyndi Zarbano is the owner of Clinical Review Consultants. She receives a speaking honorarium from PESI, Inc.
Non-financial: Cyndi Zarbano has no relevant non-financial relationship to disclose.
Continuing Education Credits Awarded for Completion of Entire Package
[+]
[-]
Combined Continuing Education Credit From All Components
Breakdown of Continuing Education Credits by Components
[+]
[-]
077545 - 2-Day Crash Course in Cardiac Nursing
[+]
[-]
077695 - ABG & Rhythm Analysis Made Easy
Audience
Nurses, Nurse Practitioners, Clinical Nurse Specialists, Cardiovascular Technology Professionals
Satisfaction Guarantee
Your satisfaction is our goal and our guarantee. Concerns should be addressed to PESI HealthCare, P.O. Box 1000, Eau Claire, WI 54702-1000 or call (800) 844-8260.

ADA Needs
We would be happy to accommodate your ADA needs; please call our Customer Service Department for more information at (800) 844-8260.