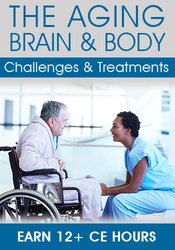 Product Details
Format:

Online Course

Authors:

ROY D STEINBERG, PHD
MARY ANN ROSA, MSN, GNP-BC, CDE
ANDREA BRANDT, PHD, MFT

Publisher:

PESI Rehab

Copyright:

4/13/2018

CE Available:

Yes, See CE credit tab for complete continuing education details

Product Code:

CRS001251
Objectives
[+]
[-]
062655 - The Aging Brain: Assessments, Treatments & Interventions for Alzheimer's Disease & Other Dementias
Analyze the impact of dementia on brain structure and function, and determine the difference between "normal forgetfulness" and cognitive impairment.
Diagnose dementias, including Alzheimer's disease, by accurately identifying manifestations of each type and understand how these differences impact prognosis in older adults.
Articulate differences between the Folstein Mini-Mental Status examination, SLUMS, and MOCA and effectively utilize them as screening measure tools for cognitive impairment and dementia.
Develop adaptable behavioral interventions that can provide patients with individualized care and promote more effective participation in therapy.
Investigate the concept of caregiver guilt and its implications for the client, clinicians, and those caring for older adults with dementia.
Correlate patients' strengths and limitations to potential therapeutic approaches when developing treatment plans for older adults with dementia.
[+]
[-]
077110 - Experience the Aging Brain & Body
Develop strategies to manage difficult behaviors in seniors who have an altered perception of reality.
Analyze why wandering occurs in individuals with cognitive impairment and develop strategies to minimize or redirect this behavior.
Communicate the environmental and behavioral causes of agitation.
Analyze the physical and psychological changes that affect an elder's desire and ability to eat including the changes in nutritional requirements.
Assess polypharmacy and medication management in the older adult.
Appraise the reasons for nonadherence and strategies to increase adherence.
Outline
[+]
[-]
062655 - The Aging Brain: Assessments, Treatments & Interventions for Alzheimer's Disease & Other Dementias
Mental Health Evaluation
Depression
Anxiety
Alcohol Abuse
Cognitive Disorder and "Forgetfulness"
Transient Cognitive Decline
Pre-cursor to dementia
Mild Neuro-Cognitive Disorder
Diagnostics of Dementing Conditions
Alzheimer's
Vascular
Parkinson's
Lewy Body
Frontotemporal
Reversible Conditions
Cognitive Assessment Tools
Mini-Mental State Examination
SLUMS
Clinical applications
Administration and scoring
Objective and subjective interpretation
Therapy modalities
Differentiate Dementia and Depression
Clinical indicators of depression and anxiety
Practical application
Psychopharmacology
Early and Mid-stage Alzheimer's - Acetylcholinesterace Inhibitors
Mid and Late-stage Alzheimer's - Neurotransmitter Glutamate
Alternate interventions
Behavioral Interventions
Intervention strategies for depression, poor appetite, verbal and physical combativeness, refusing ADL care
Strategies for coping mechanisms for the caregiver and clinician
Working with Caregivers at Home
Caregiver guilt
Depression
Ethics
Responsibility to client
Reporting abuse
Power of Attorney
Documentation
[+]
[-]
077110 - Experience the Aging Brain & Body
THE AGING BODY
Vision & Eye Problems
Current Management Strategies for:

Cataracts
Glaucoma
Macular Degeneration
Diabetic Retinopathy

Decreased Peripheral Vision
Low Vision Strategies
Hearing Loss
Identifying the Cause
Ototoxic Medications
Modifications to Consider
Hands-on Learning Station
Using the GERT® Simulator, you will experience different types of vision loss and hearing loss and develop modifications that can be implemented to help your patients.
Mobility Challenges
Managing Changes In:

Strength & Dexterity
Altered Gait & Impaired Balance

Current Treatment Recommendations for:
Strategies to Reduce Falls
Patient Safety Considerations
Transitioning to Higher Level of Care
Hands-on Learning Station
In this session, you will attempt a variety of activities of daily living and experience the frustration that comes with limited joint mobility, kyphosis and neuropathic changes in the foot. You will gain a better understanding and develop fall prevention strategies.
Nutritional Needs of the Elderly
Screening Tools
Altered Metabolism
Sensory Impairments

Taste & Smell
Oral Health

Psychosocial Considerations
Environmental Considerations
Interventions for Malnutrition
THE AGING BRAIN
Normal & Abnormal Changes of the Mind
Diagnosing Levels of Cognitive Impairment
Cognitive Assessment Tools

SLUMS
Mini-Mental Status Exam
Related Behaviors & Management Strategies for:

Wandering
Agitation
Aggression
The 3 Ds:
Dementia
Delirium
Depression
Differential Diagnosis
Communication Strategies
Related Challenges
Hands-on Learning Station
In this session, you will experience the challenges that occur with decreased dexterity, hand tremors and limited vision. Opening pill bottles, making change, even feeding oneself become very difficult tasks. You'll discuss practical tips and tools that can be implemented to assist patients and improve their quality of life.
Health Management
Dangers of Polypharmacy
Ensuring Adherence

Setting Goals with the Patient
Involving the Family

Preventative Care
Health Literacy
Author
ROY D STEINBERG, PHD
ROY D. STEINBERG, PhD, a gero-psychologist with over 22 years of experience, concentrates his work on diagnosing and facilitating treatment of individuals with Alzheimer's disease and other forms of dementia. He has lectured nationally on the assessment and treatment of individuals with Alzheimer's disease, and on increasing attention on caring for caregivers. Dr. Steinberg is the author of Forgetting the Memories: A Caregiver's Journey Through Alzheimer's Disease a guide for caregivers that draws upon his profound knowledge of the disease, its manifestations and treatment, and his great love and tenderness as the son of an Alzheimer's patient.

Dr. Steinberg maintains a private practice in Los Angeles devoted exclusively to serving older adults and their caregivers. He provides evaluation, consultation, and psychotherapeutic services to older adults in nursing homes, assisted living, and medical facilities. Dr. Steinberg provides outpatient consultation, educational, and counseling services to families and other caregivers of older adults to facilitate coping with the process of dementia.

Dr. Steinberg is licensed in New Jersey, Pennsylvania, New York, and California. He received his PhD from the California School of Professional Psychology at Berkeley. He has been featured in numerous media venues, including television, radio, and print. Speaker Disclosures:

Financial: Roy Steinberg maintains a private practice. He is an author for AuthorHouse. He receives a speaking honorarium from PESI, Inc.

Non-financial: Roy Steinberg has no relevant non-financial relationship to disclose.
MARY ANN ROSA, MSN, GNP-BC, CDE
Mary Ann Rosa is a Board Certified Gerontological Nurse Practitioner specializing in Geriatrics. She has been involved in geriatric care as a Nurse Practitioner since 1996 and an Associate Professor at a Community College in New York since 2006. Mary Ann has published articles on disease management in the older adult and developed three community disease management programs.

Mary Ann speaks locally and nationally on topics related to the older adult for various audiences. She has presented locally at numerous events including post-graduate medicine, long-term care facilities, many hospitals and universities, and nationally at the National Association of Home Care Annual Conference, the NLN Summit, OADN National Conference and the NLN Technology Conference.

Speaker Disclosures:

Financial: Mary Ann Rosa is an Assistant Professor at Queensborough Community College. She has an employment relationship with NorthShore – LIJ Home Care Network. She receives a speaking honorarium from PESI, Inc.

Non-financial: Mary Ann Rosa has no relevant non-financial relationships to disclose.
ANDREA BRANDT, PHD, MFT
Andrea Brandt, PhD, MFT,
is a marriage and family therapist located in Santa Monica, California. Andrea brings over 35 years of clinical experience to the role of individual family therapist, couples counseling, group therapy and anger management classes.
Dr. Brandt is a recognized expert in treating a full range of emotional issues, including anger & aggression, anxiety & trauma, aging, relationships, work-life balance, workplace, and women's issues.
In her workshops, patient sessions and presentations, Dr. Brandt reveals positive paths to emotional health that teach you how to reinvent and empower yourself. She emphasizes the mind-body-heart connection as a key to mental, physical and emotional wellness.
Upon pioneering a new approach to emotional healing, Dr. Brandt directed her attention to the study of anger management and conflict resolution. In her book
8 Keys to Eliminating Passive-Aggressiveness
(W.W. Norton, 2013), Dr. Brandt examines strategies for overcoming a common yet debilitating response mechanism. In her second book,
Mindful Anger: A Pathway to Emotional Freedom
(W. W. Norton, 2014), Dr. Brandt explores methods to better understand and manage the powerful emotion of anger.
For more information, visit
www.mindfulangerworkshop.com
Speaker Disclosures:
Financial: Andrea Brandt maintains a private practice. She is an author for WW Norton and receives royalties. Dr. Brandt receives a speaking honorarium from PESI, Inc.
Nonfinancial: Andrea Brandt is a clinical member of the American Association of Marriage and Family Therapy (AAMFT); and of the California Association of Marriage and Family Therapy (CAMFT)
Continuing Education Credits Awarded for Completion of Entire Package
[+]
[-]
Combined Continuing Education Credit From All Components
Breakdown of Continuing Education Credits by Components
[+]
[-]
062655 - The Aging Brain: Assessments, Treatments & Interventions for Alzheimer's Disease & Other Dementias
[+]
[-]
077110 - Experience the Aging Brain & Body
[+]
[-]
085125 - Mindful Aging
Audience
Case Managers, Chaplains/Clergy, Counselors, Nurses, Nursing Home Administrators, Occupational Therapists & Occupational Therapy Assistants, Physical Therapists/Physical Therapist Assistants, Psychologists, Social Workers, Speech-Language Pathologists, and other Mental Health Professionals, Physician Assistants, Social Workers and other Healthcare Professionals
Reviews
[+]
[-]
085125 - Mindful Aging
"If you're concerned about growing older, don't be. Andrea Brandt not only lays our concerns to rest about what awaits us as we age, she demonstrates how growing older can be the most fulfilling experience of our entire life."
John Tarnoss, MA, Reinvention Career Coach; Author of Boomer Reinvention: How to Create Your Dream Career Over 50

"I used to worry that I would have to go back to school to learn how to age gracefully, but Mindful Aging has taught me all I need to know! It's a much-needed book and an empowering read that encourages reflection, self-discovery and personal change during a most precious time of life."
Theo Koffler, Author, Educator, and Founder of Mindfulness Without Borders

"It's never too late to enjoy the rest of your life. With a learned approach to lifespan development, Dr. Andrea Brandt takes a wise and sensitive look at the process of mindful aging and concludes that while THE body must age, the mind can soar. Mindful Aging is inspirational and an insightful guide for all. A must read!"
Linda Metzner, PhD, Life Coach

"Age and experience can be assets, rather than detriments, to living a happy, healthy, and empowered life. That's just one of the many uplifting messages Dr. Andrea Brandt writes about in this thought-provoking book, which is equipped with wisdom and a myriad of other inner resources that can only be developed with age. We are finally in our prime, uniquely ready to make our most significant mark on the world. Mindful Aging inspires and guides us to embrace the opportunities of our older years and to engage in what matters most."
James Gottfurcht, PhD, Clinical Psychologist and President of Psychology of Money Consultants

"This timely and inspiring guide to aging with joy and renewal takes on special meaning as globalization and technological change in the 21st century beckons us to foster resilience and embrace life-long learning with pleasure, growth and fuller self-expression. Andrea Brandt's encouraging and informative work is long over-due."
Constance Kaplan, Licensed Marriage and Family Therapist, Faculty and Senior EMDR Trainer, Parnell Institute

"Beautifully written and providing a powerful mix of science, real-life examples, and heartfelt encouragement, this book offers the recipe for living our very best life after middle age."
Sandy Michelson, Marriage & Family Counselor, MA

"Thoroughly enjoyed reading this book. It poetically puts to paper concrete ideas and strategies for how to create a life worth living as a senior. I will refer to it again and again for myself and my clients."
Douglas L. Gosney, MA, LMFT, SEP, High-Performance Coach and Past President of the Los Angeles Chapter of the California Association of Marriage and Family Therapists

"Mindful Aging offers a remarkable and optimistic strategy for the challenges and adventure of living as we grow older. It deserves a place on every bookshelf as a hopeful reminder of what is real and what is possible."
Joel S. Satzman, MD, Member of The Plato Society of Los Angeles

"This is not just another 'feel-good' book. Brandt's clinical experience comes through as she explains clearly how to craft a life marked by health, purpose, creativity, and passion and offers exercises to bring it to life, literally."
Katherine Carroll, NTP

"Mindful Aging is an inspiring road map toward self-fulfillment in the 'golden years' of life. Dr. Andrea Brandt has captured a vision and spirit of hopefulness for all of us and her exercises motivate us to engage in this wonderful process of aging. A must-read book for all!"
Dominic Cirincione, PhD, President Organizational Fitness Associates


Satisfaction Guarantee
Your satisfaction is our goal and our guarantee. Concerns should be addressed to PESI HealthCare, P.O. Box 1000, Eau Claire, WI 54702-1000 or call (800) 844-8260.

ADA Needs
We would be happy to accommodate your ADA needs; please call our Customer Service Department for more information at (800) 844-8260.